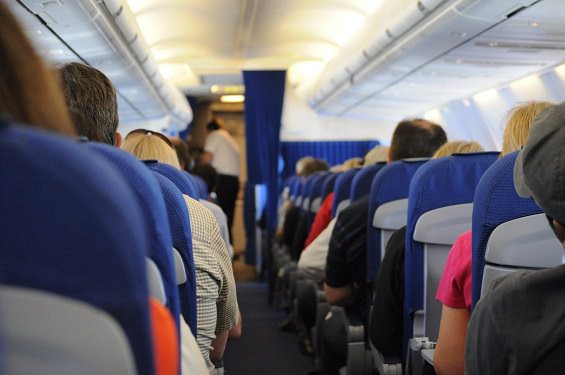 Image credit: Skitterphoto

If you're facing the prospect of 10+ hour flight in crowded, cramped economy class, remember that there are still some in-flight luxuries they can't take from you at the security gate.
We can make the worst section of the plane feel slightly less terrible with a little planning and packing. You may not think it's worth it now, but at about hour six of being suspended in mid-air in a sardine can, you'll wish you'd prepped more. Here are some ways to make economy far more comfortable.
Dress for the weather
Some flights will provide a blanket—though usually not in Economy. The air is usually pretty frigid, so writer Ariana Arghandewal recommended in Flyertalk that you dress in a winter jacket for the ride, even if you're heading some where sunny. In general, comfortable layers are a good choice for a long flight, because you'll cycle through many temperatures.
A jacket is also wise if you don't want to pack your own blanket in precious carry-on space, but a blanket might still be easier to store when you deboard. And a blanket you choose at the department store will probably be warmer (and cleaner) than the thin ones they sell when you're already thousands of miles up in the air.
Accessorize with a pillow
What goes better with a blanket than a pillow? There a few options, and Skyscanner recommends the inflatable options for the sake of carry-on space, again. There are pillows that provide support for your neck and also ones that work more for lumbar support if you have lower back problems. If you don't now, you might after a 14-hour flight.
Arghandewal also shared this sleeping position that I cannot quite picture, but maybe you can:
Stick something with a hard surface under the seat in front of you, place a pillow behind your lower back, then slide down at an angle. You'll be able to stretch your legs and not deal with having to sleep in an upright position.
It does require at least one pillow.
Consider your hygiene

At some point, you will want to brush your teeth, I promise you. Pack yourself a little kit, per Arghandewal's suggestion—she says her six items are a "toothbrush, paste, floss, deodorant, moisturizer, and socks," but Skyscanner also recommends "face spritz, under eye gel, tired eye drops, moisturizer, lip-balm, face wipes." This kit is starting to look like a full bathroom cabinet!
One thing that's pretty slim to pack and will take the place of a number of those items is a disposable sheet face mask, as long as you're not embarrassed to wear one in front of your seat mates. But it will leave you all dewey and moisturized at landing and kill about 5-10 minutes of the flight. Maybe it'll even be a conversation starter, if you feel like chatting.
Planning for sleep
Don't try to exhaust yourself so you'll sleep on the flight, because you'll just get cranky if you don't succeed. Let it happen if it's gonna happen and try to make conditions as good as possible: in addition to your pillows and blankets, pack earplugs or headphones and an eye mask to block out the light. If nothing else, bundling up in sleepwear will discourage that weird person wearing a green tea face mask from talking to you.
Get that upgrade
Funnily enough, both Arghandewal and Skyscanner recommend trying to score an upgrade, and get the heck out of Economy. Arghandewal swears that the fee can be less when you try to make that upgrade at the airport, as low as $300. That sounds high to me, but it may be worth it, especially if you didn't pack your emergency hygiene kit.
lifehacker.com/how-to-make-economy-class-tolerable-on-a-long-flight-1828631187